Hurricane Gloria - September 26-28, 1985
Gloria became a tropical depression near the Cape Verde Islands on the 16th. It slowly
developed into a tropical storm, and moved west-northward through the tropical Atlantic
at near 20 mph. On the 22nd, Gloria finally became a hurricane to the north of the Leeward
Islands. Development continued at a faster rate, and Gloria became a category four hurricane
as it moved northwestward to the east of the Bahamas. Gloria assumed a more northward
track, and passed over the Outer Banks of North Carolina early on the 27th. Accelerating
rapidly, Gloria made a second landfall on the afternoon of the 27th on western Long Island,
then fully became a strong nontropical low as it passed into the Canadian Maritimes that
evening. Its track lies below, provided by the National Hurricane Center.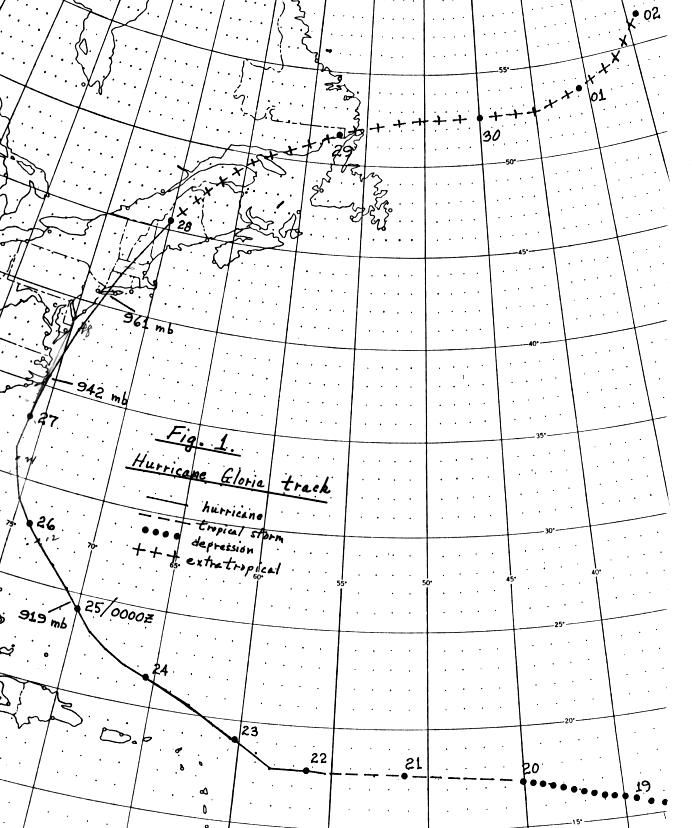 Below are a storm total rainfall maps for Gloria. Rainfall information was obtained from the
National Climatic Data Center. Note virtually all the rain fell west of the center, due to the
cyclone becoming nontropical as it paralleled the East Coast.