Tropical Storm Frances - September 3-17, 1998
Convection flared over the western Caribbean and Gulf of Mexico on on the 4th. The activity
persisted for several days as the area drifted west-northwestward. Confusing the situation was
an invasion of three weak tropical waves, keeping the surface organization in flux. By the 8th, a
broad 1000 hPa low formed in the western Gulf, indicating the presence of a tropical depression.
A depression that has this kind of a broad circulation, with a deep warm core, is known as a
monsoon depression. These systems are common in the western Pacific ocean.
After drifting southwest for a day, the cyclone organized into a tropical storm, still poorly
defined, on the afternoon of the 10th. By this time, Canadian High pressure had settled into
the Ohio Valley, draping a frontal boundary along the Gulf Coast. This acted to focus rains,
and increase wind speeds along the western Gulf Coast. Gale force winds lashed the coast
from the 10th through the 12th in the tight pressure gradient between Frances and the high
pressure center, leading to a large area of coastal flooding and erosion.
The high also steered Frances on a northerly track, taking the strong tropical storm inland
north of Corpus Christi on the 11th. Soon after making landfall, Frances began to wander
just inland of the coast, slowly weakening. This motion dropped a large quantity of rainfall
in the Houston/Galveston metropolitan area in this time frame. Now a tropical depression,
Frances moved northward towards Dallas/Fort Worth, dropping large amounts of rain near
its path, and along the accompanying warm front moving northward in tandem with the
system. Heavy rains fell northward into Midwest, as the cyclone tracked around the High.
Even after Frances departed the Gulf Coast, heading for the Great Lakes and New England,
a convergent band of rain lingered in its wake across the Sabine river basin on the 14th, which
slowly retrograded into eastern Texas on the 15th, weakening as it passed into central Texas
on the 16th. By this time, the system once known as Frances had been swept into the Atlantic.
Below is the track of Frances, furnished by the National Hurricane Center.

The storm total rainfall maps below were constructed using NHC rainfall totals listed in their
post storm report, Hourly Precipitation Data publications from the National Climatic Data Center,
and from the Comision del Agua, the parent agency of the Mexican National Weather
Service.

The four day rainfall total for Frances displayed below was constructed by the National
Weather Service Office at Houston/Galveston, Texas. Note the maxima in Brazoria,
Galveston, and Harris counties...basically the Houston/Galveston metropolitan area. This
is near and to the east of where the cyclone stalled overnight on the 11th/12th.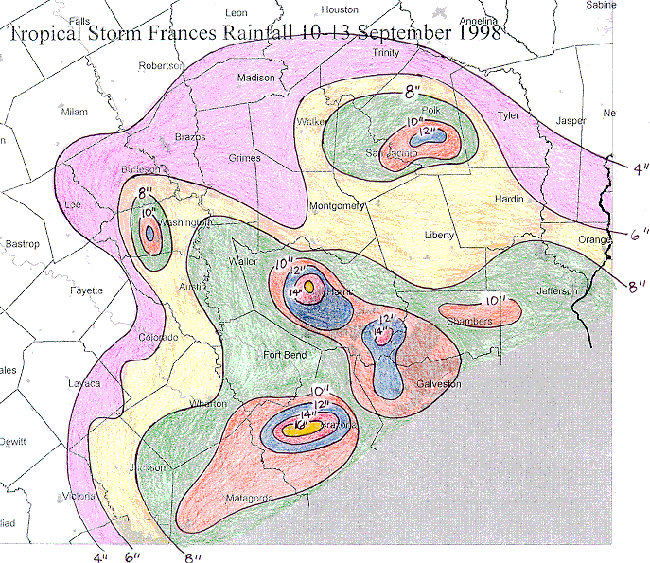 Below is the calendar for Daily Precipitation Maps. Note that the 24-hour periods end
at 12z that morning.