Hurricane Fran - September 4-8, 1996

A strong tropical wave moved off Africa on August 22nd moved westward into the open Atlantic.
It quickly developed a surface circulation and developed into a tropical depression by the morning
of the 23rd. It moved westward at 15 knots with little change in intensity, moving about 750 miles
east-southeast of the more powerful Hurricane Eduoard. The system became a tropical storm on
the 27th, just over midway between Africa and the Lesser Antilles. Hurricane status was reached
during the evening of the 28th while approaching the Leeward Islands. Fran slowed its motion and
began to drift northwest on the 30th, following Eduoard's lead.

Weakening briefly back to tropical storm status, Fran became a hurricane again on the 31st. Motion
became west-northwest as Eduoard accelerated to the north, and the Bermuda High wedged in
between the two systems. Paralleling the Bahamas by 100 miles, Fran became a major hurricane
with winds sustained at 115 mph on the 4th. A deep closed low over Tennessee initially caused Fran
to move north, then eventually northwest into North Carolina on the 5th. Rains began on the 3rd
as the Bermuda High created a moist southeast fetch into the Appalachians, and the nearby closed
low destabilized the atmosphere. This low caused Fran to track almost perpendicular to the
mountain chain...an unusual feat, and recurve northeastward across the eastern Great Lakes on
the 8th and 9th. By the 10th, Fran weakened as it moved offshore the New England coast.
Its track is below, courtesy of the National Hurricane Center.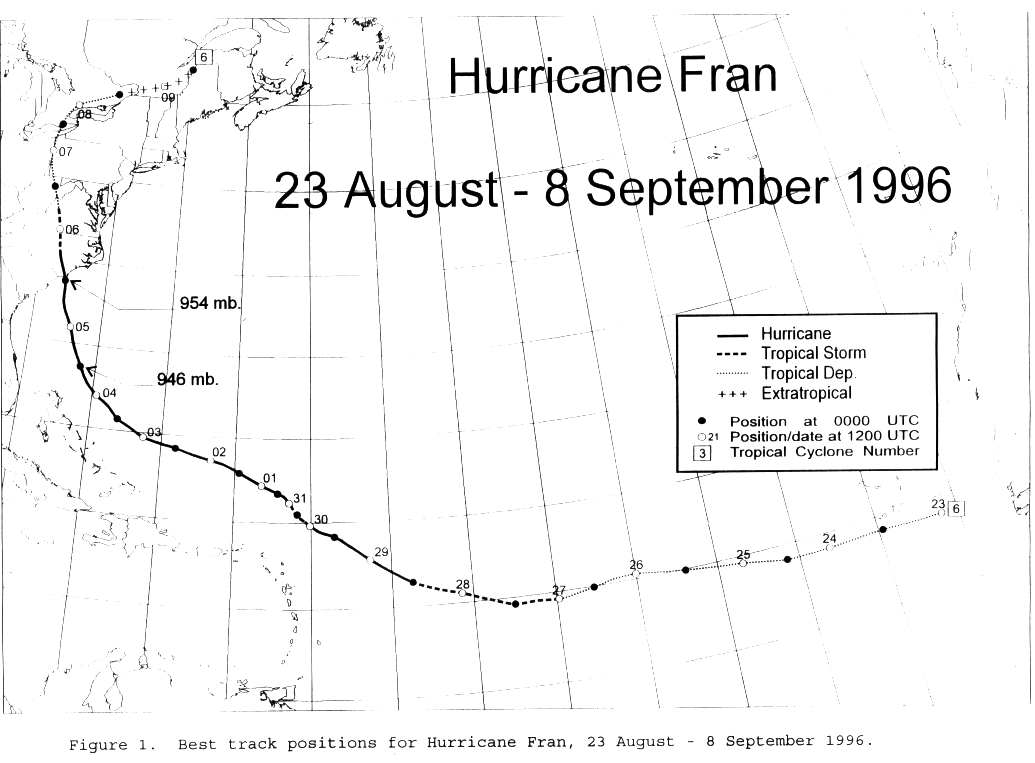 On the graphic below is the storm total rainfall for Fran. Note the streak of heavy rains
that fell from southeast North Carolina northward through central Virginia, the panhandles
of West Virgina and Maryland, and into Pennsylvania. A secondary maximum appears in
Ohio. The break in the rainfall in western Pennsylvania and northern West Virginia is due
to a "rain shadow" that occurs on the downslope side of the Appalachians. The graphic
was produced using data from the National Climatic Data Center in Asheville, North Carolina
and Eastern Region Headquarters.
Below is the calendar for Daily Precipitation Maps. Note that the 24-hour periods end
at 12z that morning.
| | | | | | | |
| --- | --- | --- | --- | --- | --- | --- |
| Sun | Mon | Tue | Wed | Thu | Fri | Sat |
| | | | 4 | 5 | 6 | 7 |
| 8 | 9 | 10 | | | | |